We've put together a powerful solar panel kit that allows you to run your dinghy or kayak from solar without draining the battery. By combining two 50 watt panels from Shine Solar we've made a powerful folding solar panel that will work with any of the grey 1003 batteries and all but the earliest Ultralight batteries.  We've also sourced a nice cordura carry bag to carry and store it in.
With  100 watts of power coming into your battery you can travel at 2 to 3 knots in a dinghy and faster in a kayak and still have a bit left over for topping up the battery.  Under less than ideal conditions you can still count on a good 50 watts — lets face it, its difficult to get the angles perfect on a panel on a small boat bobbing in the water, and so 50 watts is more likely what you can expect.  With this amount of power coming in you can still travel at a good speed in a kayak without using battery power.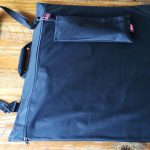 This combination of two panels takes advantage of the sweet spot of voltage and current that is an ideal match for the early Torqeedo batteries that are limited to maximum of 4 amps, and is also perfect for the new batteries which accept a greater range of voltages for charging.  If you currently have an older battery it means you can get this solar panel kit and know that if you upgrade to a new battery this solar panel will work with it as well.  If you have both types of battery or are not sure which type you, this panel will work on both.
Here are the technical details of the panels
Rated output
Up to 100 watts
Rated voltage under load
35.2V
Open circuit voltage
42.4V
Maximum output current
2.8 amps
Cells
Sunpower back contact cells
Cell efficiency
21.5%
Weight
Approx 2kg
Dimensions

560 x 540 folded panels

1130 x 540 opened

690 x 620 carry bag
Because the kit is made up of two 50 watt panels, if you need it for other purposes that require a 12v panel, they can be easily disconnected and used separately.
To purchase this product go to shop pages here.