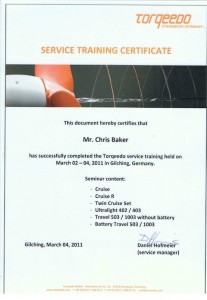 If anything goes wrong with your Torqeedo you can send it here to be repaired by a Torqeedo authorised technician. Whether it is a warranty claim or if it is damage by adventure  (doesn't that sound better than mis-adventure?) we can fix it for you. We now have a small range of spare parts, and will have a more parts coming soon..
I'll be in Germany next week for further training in new models and to make sure my skills are up to date.  As well an important aspect for me is to meet in person with the Torqeedo people that I deal with by electronic mail—its helpful to put a face to the name.
Update 28 February 2012

I'm now back from Germany and am now accredited for work on the new Cruise tiller models and the new Power 26-104 battery, both of which will be available soon. I think the new Cruise Tiller model is the nicest looking Torqeedo yet and builds on the Cruise R series with the adaptation of the tiller from the 1003, and new frame for the top of the motor.
The new battery is well protected from the things that you might expect that could be dished up to a marine battery.  It has protection against reverse polarity connection, short circuit, under charge, over charge, high current, and flooding.  In the case of flooding, the battery will detect that is under water and the power to the terminals will be removed to prevent galvanic effects.
So far the battery has only been available for limited release as a pilot model but full production will commence soon and we expect to see the first of this production run in Australia in a few months form now.  There will be limited availability to begin with so if you are interested please contact me to have some allocated from the first shipment.
These batteries have a much higher energy density than AGM batteries which are currently the most popular choice for marine batteries. You can expect to provide equivalent available energy for about 80% less weight, which is a subtstantial saving for weight sensitive yachts used for racing or fast cruising. For example to get the equivalent energy of a single Torqeedo Power 26-104 battery you'd need four x 75 ah AGM batteries such as Optima.  And this is based on a generous 70% depth of discharge. The weight of these four 75 ah batteries at 27 kg each would be 108kg. And a single 26-104 Power battery of 20kg will provide the same useful energy with a lots of built in protection and a 10 year life expectancy.  The cost will be more up front at $3650.00 but its total lifecycle cost will be better and its weight saving substantial.